K-State Lands Knoll
KSCB News - November 17, 2011 6:41 am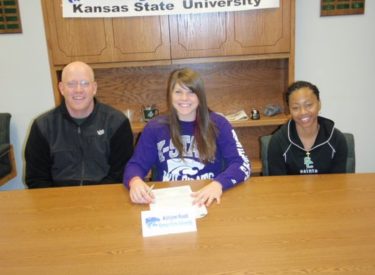 It was a rather quick and painless process. After an
All-American freshman season, Seward County sophomore forward Ashlynn
Knoll had a host of suitors from the next level. But, after just one
official visit, the Lady Saints leader knew where she wanted to take her
talents after her days in Liberal were done. Knoll made her decision
official today as she signed her name on the dotted line to join the
Kansas State Wildcats next season in Manhattan.
Knoll brought in a slew of awards in her first year at
Seward County in 2010-2011. She was an Honorable Mention WBCA
All-American, a 1st Team All-Jayhawk West performer, and was named 2nd
Team All-Region after averaging 12 points and 7 rebounds for the Lady
Saints as a freshman. This season Knoll has stepped her game up even
more, averaging 18 points and 7 rebounds per game and has already added
to her hoops resume with a Jayhawk Conference Player of the Week award
recently following a 34 point, 14 rebound effort against defending
National Champions Monroe last weekend.
Following her sophomore year with the Lady Saints, Knoll
will join a Kansas State team deep in history and another talented team
poised to make a run in the Big 12 Conference and NCAA Tournament. The
Wildcats have reached the NCAA's in 3 of the past 4 seasons under the
direction of two time Big 12 Coach of the Year, Head Coach Deb
Patterson. Under Patterson's tutelage, the 'Cats have sent 7 players to
the WNBA and have had 9 players reach AP All-American status. Last
season K-State oddly enough finished with an identical 21-11 overall
record as the Lady Saints and even posted the same conference mark of
10-6 as Seward did. They beat Iowa State in the opening round of the
Big 12 Tournament before falling to Brittney Griner and #3 Baylor in the
semis. The Wildcats received an at-large bid to the NCAA Tournament
where they were an 8 seed and dropped their only contest 53-45 to Purdue
in the 1st Round.
"Everything just felt right at K-State" Knoll said.
"The players were all really friendly and made me feel welcome and I
like the way that Coach Patterson works" she continued. Seward Head
Coach Toby Wynn said of Knoll "Ashlynn is a good fit for Kansas State.
She has a good frame, can step out and hit the three, or post up inside
and score." "I think that she will have a good career there and made a
good decision to join the Wildcats" he finished.
Roy Allen