Jersey Tenors Coming to Liberal
Joe Denoyer - March 8, 2019 4:01 pm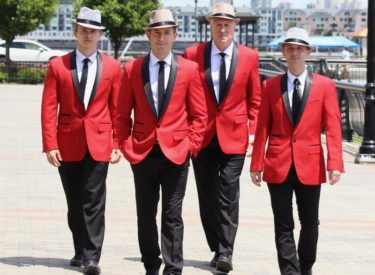 The JERSEY TENORS are on tour in the Midwest and will appear here in Liberal, KS  Saturday, March 16th, 2019 at the L.H.S. Auditorium under the sponsorship of the Community Concert Association of Liberal, Inc. as part of its current series on performances.  The concert begins at  7:30 pm.
      The JERSEY TENORS  are a rock/opera mash-up sensation that creates an explosive blend of the most popular opera classics alongside such rock 'n roll greats as Queen, Journey, Elton John and Billy Joel to name a few.  BUT – they are also "Jersey Proud" and do not forget where they came from as they highlight some of Jersey's finest, including Frankie Valli, Frank Sinatra, Bon Jovi, Bruce Springsteen, Kool and the Gang and even Whitney Houston!
      The JERSEY TENORS, a quartet who all have Broadway credits, including the leader, Brian Noonan who spent 17 years performing in such shows as "Les Miserables," "Phantom of the Opera" and "Jesus Christ Superstar."  Brian is joined by Danny Calvert, Cameron Johnson and Vaden Thurgood.  Noonan and Johnson lead the operatic selections, while Vaden and Danny bring their rock 'n roll chops to the performance.  All four are classically trained and the quartet has found a sound that really works, producing the exact blend to share their musical experiences on the stage each night.  The JERSEY TENORS grew out of a Frankie Valli tribute band and the Unexpected Surfer Boys: who performed a very successful 38 concert tour in the 2013-2014 season.
      These four charming guys will raise the roof with their powerful voices and will have you singing along before you know it.
      From Frank Sinatra to Frankie Valli to Figaro – they do it and you'll love it!  Everything from their beautiful voices, perfect harmonies, engaging humor and elegant costumes.
      Contact the Community Concert Association President, Mike Brack for further information: Phone # 620-482-0466.  If you are not a present membership patron there will be single tickets for the show available at the door for $25.