Jerrod Niemann Gets CMA Nomination
KSCB News - September 1, 2010 12:00 am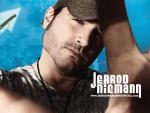 Jerrod earned his first Country Music Association award nomination this morning, with Niemann among the final CMA nominees for New Artist of the Year.
Niemann ??s career has exploded in 2010 with his chart-topping co-produced album, Judge Jerrod & The Hung Jury, debuting at #1 on Billboard ??s Top Country Albums chart in its first week of release, as well as the recent #1 single success of ??Lover, Lover, ? now an RIAA-certified Gold Digital Single.
But amid the success and critical acclaim surrounding his music, Niemann admits that the CMA nomination caught him completely off-guard. Jerrod says it ??s ??just an unbelievable feeling. I got started as a songwriter, so I ??ve been in the trenches a long time, and so for everybody to recognize that and give you a pat on the back and say thank you for hangin ?? in there ?? although you had your puppies ran over a couple times, ? he jokes, in reference to the career disappointments that ultimately helped inspire Judge Jerrod & The Hung Jury. Jerrod says, ??It ??s a huge honor, and I ??m very excited and thankful. ?
In just a few days, fans can watch for Jerrod on the road with Gary Allan, together with Jerrod ??s longtime buddy Randy Houser, on Allan ??s ??Get Off on the Pain Tour, ? beginning September 16.
Catch all the excitement of The 44th Annual CMA Awards when the show airs live from Nashville on November 10, at 8 PM ET, on ABC