Jerrod Niemann Auction Ended. Final Price: $500
KSCB News - December 30, 2010 3:24 pm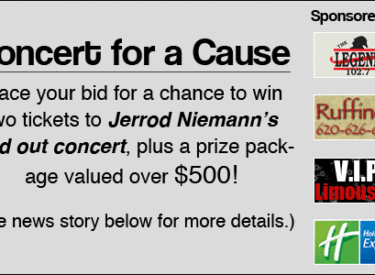 Someone in Legend country has a chance to receive the VIP treatment when country music star and Liberal native Jerrod Niemann returns home for a concert January 15. KLDG is offering a Concert For a Cause which is a silent auction for a VIP package when one of country music's rising stars performs in Liberal. The package includes two tickets to the Niemann concert; an overnight stay at a suite at Holiday Inn Express; dinner for up to 50 dollars at Ruffino's; autographed memorabilia from Jerrod; and VIP Limousine Service during the evening. The starting bid for the auction is 100 dollars with the auction ending January 11. Proceeds from the auction benefit the Stepping Stone Shelter. To be eligible for the auction, you must register at kscbnews.net. Click on the "Register" portion at the top of the web site to register.
How To Bid:
Register as a user at the top of page by clicking "Register"
At the bottom of this story, place your bid in the comments section. Ex. "My bid is $200"
Check back often to see if your bid is still on top.
After the auction, be sure to keep a look out in your inbox for an email from one of KSCB's staff.
Good luck!
__________________
Niemann was raised in Liberal, graduated from Liberal High School in 1997, and still considers Liberal home. Jerrod's first single with Sony/Sea Gayle Records, "Lover, Lover" went # 1 on the Country Music Charts, followed shortly by the release of his CD, "Judge Jerrod And The Hung Jury" which debuted at # 1. His current single, " What Do You Want" is also rapidly climbing the charts. He has recently been touring with Gary Allan and Brad Paisley. The Welcome Home Concert will be a part of LHS Booster Club Showdown Weekend, with Friday Night January 14th, being an audience and judged competition where contestants will be competing for over $3000.00 in cash and prizes and the right to be the opening act for the Jerrod Niemann concert. His concert is a sell out.