Jared Biddy Signs at Southeastern Louisiana
Brock Kappelmann - November 9, 2016 4:42 pm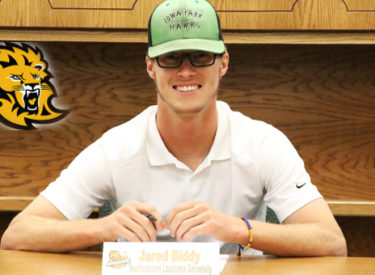 On the heels of a solid freshman campaign for the Seward County Saints in 2016, Seward righthander Jared Biddy signed his National Letter of Intent Wednesday on National Signing Day, choosing Southeastern Louisiana University to continue his playing career.
Biddy started nine games for the Saints as a freshman, posting a 6-3 record after transferring from Texas Tech in the Spring. He posted a 4.68 ERA with 31 strikeouts and 13 walks in his 50 innings of work on the year. Biddy tossed a pair of complete game shutouts during his first year with Seward, blanking Jayhawk West Champs Colby in a five inning two hitter and going seven scoreless in a four hit victory over Dodge City later in the season.
While he plans to transition into only a pitcher for the Lions, Biddy was good with the stick as well for the Saints in 2016, hitting .284 with five home runs, 33 RBI's, and 13 stolen bases to lead Seward last season.
He will join a Southeastern club coming off of a 40 win season and another trip to the NCAA Tournament. Last season the Lions were given an at-large bid to the tournament for the first time in program history, playing three games in the Baton Rouge Regional including a win over Utah Valley.
Roy Allen