It's A Bad day at the OK Corral as Liberal Drops a pair in Dodge City.
KSCB News - February 6, 2011 9:14 am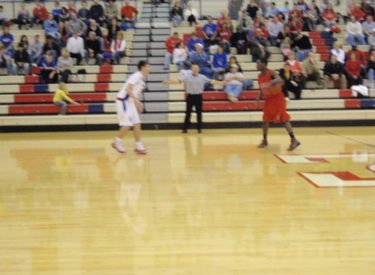 The Liberal Redskins dropped a close one, losing to Dodge City 54-48 Saturday afternoon. The game was 30-25 Dodge at half, but four straight free throws on two technical fouls to start the second half gave the Demons just enough breathing room for their 11th win of the year, 3-0 in WAC. Jade Cathey, who had two fouls at half, was assessed the two technicals for dunking in half time warm-ups. Officials stated they could not warn Cathey soon enough after the first dunk and the second one was assessed giving the home team a comfortable home court 9 point lead beginning the second half. The two technicals, add to your foul totals, so Cathey watched all of the third and a minute into the fourth quarter before re-entering the game. He had 13 points while DeVondre Livingston added 10. Slader McVay hit three three pointers for nine points. Liberal dropped to 8-7 , 2-2- in WAC play. The Red Demons are 11-2 overall and 3-0 in the WAC.
The Lady Skins were out played from the beginning losing 50-22 to front runner Dodge City, who stands a perfect 3-0 in WAC play. Liberal falls to 2-2 in conference action and now 8-7 on the year. Dodge City held Justice Norah to six points. Dodge is 10-3 overall and 3-0 in the WAC. Liberal plays at Guymon Tuesday night with the girls game at 6:30 and the boys game to follow on Talkradio 1270 and kscbnews.net.