It Comes Down to Saturday as Saints Split at Pratt
Brock Kappelmann - May 7, 2022 7:39 am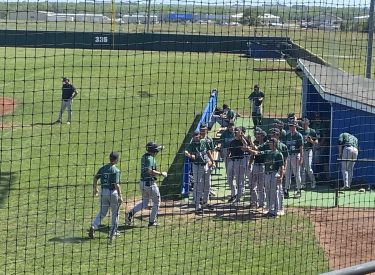 Seward, Pratt, and Garden City are 7-23 and vying for the 7 and 8 spots in the Jayhawk West going into the final day.  The ninth place team does not make the Region 6 Tournament. Pratt rallied past the Saints 8-5 in game one before the Saints took game two 8-3 Friday afternoon at Stanion Field in Pratt.
In game one, Mason Martinez and the Saints seemed to be coasting.  SCCC plated four in the first.  Martinez shut out the Beavers from the 1st through the fourth and retired 12 in a row after a lead off single in the first.  Jase Schneider doubled down the right field line with one out in the first.  Jaxson Gregg singled.  Luke Williams singled home a run.  Jordan Crowder laced a two RBI triple to left center.  Pratt scored a run in the fifth to make it 4-1.  But Pratt scored seven runs on six hits and three SCCC errors in the sixth to lead 8-4.  Tucker Livermoore doulbed and scored on Jase Schneider's sac fly in the seventh to make it 8-5.  Martinez pitched 5 and 1/3 innings with six strikeouts and one walk but allowed seven earned runs.  Jase Schneider and Luke Williams had two hits a piece.
Dylan Day pitched one of his better games of the season in game two.  The sophomore right hander pitched seven innings with six strikeout and two walks and did not allow an earned run.  Seward scored two in the first.  Ranse Radtke singled to lead off the game.  Jase Schneider doubled him home.  Jaxson Gregg singled home Schneider.  Tristan Curless ripped a home run out to right in the third for a 3-0 SCCC lead.  The Saints added two in the fourth.  Tucker Livermoore singled and Ranse Radtke doubled.  Jase Schneider hit a sac fly.  Jaxson Gregg singled home a run.  Seward took a 6-0 lead in the sixth when Tristan Curless doubled and Jordan Crowder doubled him home.  Pratt scored one in the seventh and two in the eighth.  Seward out-hit  Pratt 16-7 and committed five errors.  Tucker Livermoore was 3-4.  Jaxson Gregg had three hits and Ranse Radtke, Tristan Curless, Gannon Hardin, Jordan Crowder, and Jacob Masters had two hits a piece.
Seward is 14-38 which ties their school record for losses.  They were 17-38 in 2017.  Pratt is 20-32.  Both teams are 7-23 in the Jayhawk West.  The same two teams meet Saturday at 1pm at Brent Gould Field for the final home games of the season.  Pre-game at 12:45 on 1270, 92.3, and The KSCB and The Legend App.  Galen McSpadden's jersey #29 will be retired with a ceremony at 12:15.