Isaac Farm And Ranch Chosen As Outstanding Cooperators
KSCB News - January 16, 2012 8:19 am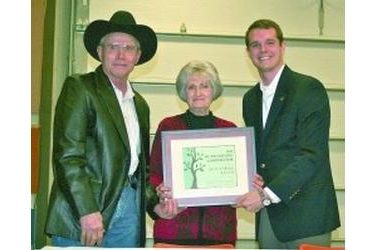 Harold and Karen Isaac of Isaac Farm & Ranch near Adams, have been selected as the Texas County Conservation District's 2011 Outstanding Cooperators. This award, which is presented annually by the Texas County Conservation District, seeks to recognize a local farmer or rancher who has worked with the conservation district and the USDA /NRCS to implement progressive, sustainable, and successful conservation programs and practices in their operation.
The Isaacs, who have been farming and ranching since 1968 in both Beaver and Texas Counties and who are the third generation to farm the Friesen and Isaac land, were selected by the Texas County Conservation District's Board of Directors from 19 nominations. Harold and Karen were chosen not only for their successful implementation of the NRCS Environmental Quality Incentives Program (EQIP) and the Conservation Stewardship Program (CSP) and their active participation in the Conservation Reserve Program (CRP), but also for their progressive utilization of no-till farming practices, grazing management, and nutrient management.
Mr. and Mrs. Isaac have shown a desire and willingness to go above and beyond in their efforts to help protect and sustain our natural resources.