Iowa Western Sweeps Seward in Home Opener
Brock Kappelmann - February 18, 2020 7:18 am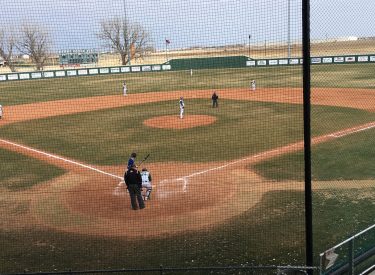 The home season is underway for the Seward County Saints.  The #4 Iowa Western Reivers, the NJCAA runner up program last year, swept the Saints 6-1 and 14-3 Monday afternoon at Brent Gould Field.  The Reivers, winners of three NJCAA titles, played in Garden City Sunday and swung down for two at Seward Monday.
In game one, Iowa Western's Jack Neely pitched five shutout innings.  The Saints only scratched out one hit in the seven inning game.  Steven Craddock pitched three scoreless inning in the loss.  Iowa Western scored one in the first, four in the third, and one in the fifth.
In game two, Iowa Western jumped all over the Saints with seven in the first.  The Reivers out hit the Saints 13-5.   The Saints scored two in the fourth and one in the fifth.
Seward is 1-9 and Iowa Western is 5-1.  The Saints host Indian Hills Friday at 1 for a double header at Brent Gould Field.