Inmate Found Dead in Cell in Cimarron County
KSCB News - February 14, 2019 12:39 pm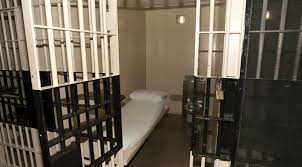 CIMARRON COUNTY, Okla. (KVII) —
by Matthew Watkins abc7amarillo.com 
The Cimarron County Sheriff's Office, Oklahoma State Bureau of Investigations and Oklahoma Medical Examiner are investigating an inmate dead that occurred on Tuesday night as an apparent suicide.
According to the Cimarron County Sheriff's Office, Nico Lee Collins, 29, was booked into the Cimarron County jail at about 6:54 p.m. for public intoxication related charges. At the time of intake, Collins was placed in a cell by himself based on his intoxication or possible impairment.
The preliminary investigation has revealed that between the time of 11:40 p.m. and 11:49 p.m. jail staff observed Collins moving throughout the cell to a rear location within the inmate area near a toilet/sink. While in that area, Collins was able to fabricate an implement from items found the cell area which he used in an apparent suicide due to asphyxiation.
Documents completed during the time of Collins entry into the jail did not indicate he was at risk of self-harm.
More information may be released upon the conclusion of the Oklahoma Medical Examiner's report and findings.
The investigation remains ongoing.