Injury Accident Results in Citation
Joe Denoyer - March 29, 2021 11:30 am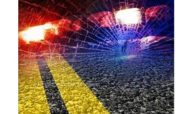 On Saturday, March 27, 2021 at about 12:19 p.m., Liberal Police Department, Liberal Fire Department, Seward County Sheriff's Department and Seward County EMS responded to the 200 block of E. Tucker Road in reference to an injury accident. 
Upon arrival, officers located a two-vehicle collision. Investigating officers determined the 2012 Chevy Cruz, driven by a 30-year-old male, was traveling west on Tucker and the 2010 Chevy Camaro, driven by a 20-year-old male, was traveling east on Tucker at an accelerated speed. The Chevy Camaro struck the Chevy Cruz on the passenger side of the vehicle as it was turning into the Wal-Mart parking lot.
The driver of the Chevy Camaro was transported to Southwest Medical Center by Seward County EMS with non-life-threatening injuries.
A citation was issued for reckless driving to the driver of the 2010 Chevy Camaro.