Injury Accident Occurs Monday Afternoon
Joe Denoyer - March 3, 2020 4:23 am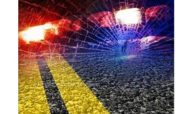 An injury accident occurred Monday afternoon at approximately 3:08pm on US Highway 54 and North Street in Optima OK.
A  2011 Chevrolet Pickup driven by James Michael Mathews, 70 of Guymon, was traveling east on US54 while a 2001 Cadillac Deville driven by Gregorio Espinoza Jr, 55 of Optima, OK.  was traveling north on North Street. Espinoza failed to yield to the pickup at the stop sign. Mathews swerved left to avoid hitting Espinoza, but  struck him on the driver side.
Espinoza was transported by Texas County Fire Department to Texas County Memorial Hospital in Guymon, then later transferred to Northwest Hospital in Amarillo, TX by Apollo aircraft. He was admitted in stable condition with trunk internal and head injuries.
A passenger in Espinoza's vehicle, a 17 year old juvenile was taken to Texas County Memorial Hospital where she was treated and released.
Mathews was treated on scene.
Cause of the accident was failure to yield at a stop sign. Seatbelts were in use in both vehicles.