Injury Accident in Texas County
Joe Denoyer - November 6, 2021 9:46 am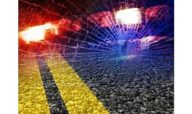 An injury accident occurred on Friday evening at approximately 6:17pm at US-54/E0340 Road, approximately 1 mile northeast of Texhoma, OK in Texas County.
A 2011 Ford F350 driven by Dylan Hammit, 26, of Garden City, Kansas came to a controlled stop at County Road HH heading west. He failed to yield to a 2004 Ford F150 driven by Gustavo Pompa, 30, of Texhoma, OK. causing the Ford to strike the Hammitt vehicle. Hammitt was ejected after impact. He was transported by Goodwell EMS to Memorial Hospital of Texas County in Guymon, OK, and was treated and released.
Pompa was transported by Guymon EMS to Stratford Airport in Stratford, TX. Then transported to Northwest Texas Healthcare System in Amarillo, TX by AirEvac and was admitted in stable condition with head and internal trunk injuries.