Injury Accident at 15th and Pershing
Joe Denoyer - May 26, 2021 10:24 am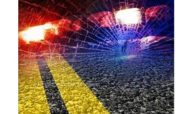 On Tuesday, May 25, 2021 at about 10:42 a.m., the Liberal Police Department, Liberal Fire Department, Seward County Sheriff's Department and Seward County EMS responded to the intersection of 15th Street and Pershing Ave. in reference to an injury accident.
Upon arrival, investigating officers determined a 2007 Dodge Charger, driven by a 28-year-old female, was traveling eastbound on 15th Street near the Pershing Ave. intersection. A 2008 Toyota Camry, driven by a  55-year-old male, was traveling westbound on 15th Street at the same intersection. The Dodge Charger made a northbound turn, toward the Southwest Medical Center entrance in front of the Toyota Camry, resulting in a collision.
The driver of the Toyota Camry was transported to Southwest Medical Center by Seward County EMS with non-life-threatening injuries.
A citation was issued to the driver of the Dodge Charger for failure to yield prior to a turn.