Indy Rallies Past Saints
Brock Kappelmann - February 5, 2023 10:22 am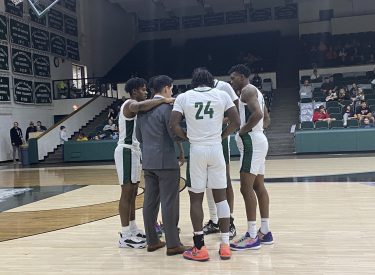 The Seward County Saints continue to struggle to gain any traction during their 2022-23 season.  After an impressive showing against Cloud on Wednesday, Seward let an eight point lead slip in a 79-75 loss to the visiting Independence Pirates Saturday afternoon and evening in the Green House. The Saints have lost eight straight to the Pirates.
Indy jumped out early on SCCC 17-11 at the 11:02 mark.  The Saints rallied to lead 20-19 and 24-21 before taking a 30-23 lead.  The Saints led 42-37 at halftime.  The Saints endured a dreadful second half offensively shooting just 24 percent.  ICC took a 46-42 lead at the 15:11 mark as Seward failed to score for the first five minutes of the second half.  However, the Saints recovered and led 54-46 with 10:35 to play.  Seward led 57-49 with 9:35 remaining.  Seward's lead dwindled to three at 61-58 with 6:29 to play.  ICC took a 67-65 with 3:38 to play.  Indy led 75-70 and led 76-74 with 14.9 seconds left.
Seward shot 37 percent while making 5-14 from three and 18-22 from the foul line.  The Pirates shot 43 percent making 7-17 from three and 16-25 from the foul line.  Indy had 19 turnovers and Seward had 17 turnovers making 40 in the past two games.
Mario Whitley led Seward with 16 points.  Jaylin Henderson added 13 points and seven rebounds.  Blessin Kimble was the Epic Touch Player of the Game with 13 points and 10 rebounds.  Wilson Dubinsky added 10 points with five rebounds.
Seward falls to 12-12 overall and 8-10 in the Jayhawk.  Independence is 9-15 and 7-11 in the KJCCC.  Seward plays Wednesday night at 7:30 at Garden City on 107.5.