Indians Fire Wedge, will Mike Hargrove be Considered?
KSCB News - September 30, 2009 12:00 am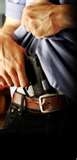 CLEVELAND — The Cleveland Indians have fired manager Eric Wedge in the final days of a terrible season.
Wedge guided the Indians to one playoff appearance in seven seasons, and this year the club fell out of contention early and is currently one game out of last place in the AL Central.
The Indians, who are 64-92, have scheduled a Wednesday afternoon news conference at Progressive Field to announce Wedge's dismissal.
Cleveland recently lost 11 straight games and has dropped 20 of its past 25 games.
Wedge will finish the season as manager. Cleveland's coaching staff also has been informed it will not be retained, but some of the staff could be rehired by the Indians' next manager.
Two years ago, Cleveland was one win away from a World Series trip. The Indians fell to 81-81 in 2008, but were expected to bounce back and contend this season. However, a slow start snowballed and by midseason the club traded defending Cy Young Award winner Cliff Lee and All-Star catcher Victor Martinez to begin rebuilding again.
Boston Red Sox pitching coach John Farrell could be considered a candidate to replace Wedge, though a recent report said a clause in his contract with Boston prevents him from taking a managing job before 2011.
Farrell was the director for player development for the Indians before going to Boston in 2007, and he lives in Cleveland in the offseason.
Owners Larry and Paul Dolan and general manager Mark Shapiro have spent the past several weeks reviewing Cleveland's organization, including the manager, and initially said they would wait until after the season before making a decision on Wedge. However, they decided not to delay what many Indians players felt was inevitable.