Improved Redskins Lose 7th Straight
Brock Kappelmann - February 25, 2022 6:52 am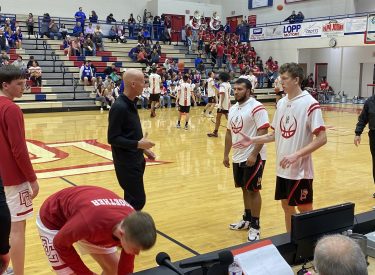 The Liberal boys basketball team has certainly played better basketball in three of their past four games.  But it still isn't enough as Liberal finishes the regular season with seven straight losses after a 70-54 loss to #3 Dodge City at Dodge City Fieldhouse Thursday night.   Dodge City won the first meeting 70-32.
The Redskins took an early 9-8 lead but the Red Demons led 14-10 after one quarter.  Dodge led 25-18 and led 34-24 at halftime.  The Skins played some of their best defense early in the second half and got to within six at 35-29 with 2:38 to play.  The Demons used a 13-3 run to lead 48-32 during a span in which two technical fouls were called against the Redskins.  The fourth quarter was played to a 22-22 tie.
Liberal shot 40 percent but committed 22 turnovers in the loss. DCHS shot 39 percent.  Dodge was 19-31 at the foul line while Liberal labored at 9-19.  The rebounding was even at 38-38 which also was a dramatic improvement for LHS.  Chris Robledo scored 11and Mekhi Huskey scored 10.  Shay Kerr added eight points and six rebounds.
Liberal finished 0-8 in the WAC for the first time since 2006.  Four regular season wins is the least since 2002 when they won two.  Dodge City is 17-3 and finishes 6-2 in the WAC.  Liberal is 4-16 and begins sub state on Wednesday on 1270, 92.3, and the KSCB and The Legend App.