Improper Welding and Metal Working Causes Grass Fire in Texas County
Joe Denoyer - March 30, 2023 10:03 am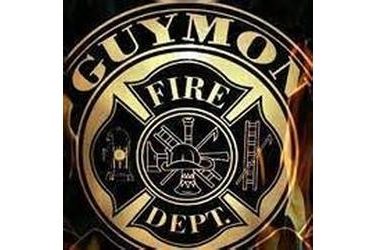 Wednesday afternoon at 3:54pm, Guymon Firefighters responded to 911 calls of a grass fire just east of Guymon on Rd. 33. On Firefighters arrival, they found a fast moving fire that was immediately threatening a metal scrap yard and numerous mobile homes that were occupied. Guymon Fire Department quickly requested assistance from Goodwell, Optima, and Hough Volunteer Fire Departments to aid in extinguishing this fire.
"At the time of this fire, dangerous fire weather conditions were present with sustained winds out of the southwest at 22mph", said Guymon Fire Chief Grant Wadley. The fire started on one individual's property and quickly spread to their neighbor's property to the north. Firefighters were able to stop the fire which burned an estimated 10 acres and a large pile of used tires within an hour.
This fire was started by individuals weilding and cutting pipe fencing over combustible surfaces in the dangerous winds. There were no safety measures in place by these individuals in the event a fire started. "These actions are in direct violation of the current Burn Ban here in Texas County all in part due to the extreme fire weather we are experiencing here", said Chief Wadley.
The Guymon Fire Department and the Texas County Sheriff Office want to remind all Citizens of the active Burn Ban in Texas County. You may contact the Guymon Fire Department for questions related to the Burn Ban at 580-338-5536.