Hutchinson Sweeps the Saints
KSCB News - March 23, 2014 7:31 am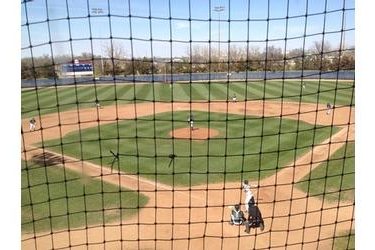 Seward committed seven errors and didn't score in their first 12 innings of play Saturday in Hutchinson. The #17 Blue Dragons swept Seward 5-0 and 5-4 at Hobart-Detter Field on a frigid Saturday with temperatures in the 40's and winds blowing in at up to 24 miles per hour.
In game one, Hutch scored five runs on six hits and two errors against game one starter Austin King. The Saints had just two hits while Hutch had 10. The Saints had four errors. King pitched the distance allowing four earned runs and five strikeouts.
In game two the Saints had many opportunities but squandered most of them. In the second inning the Saints loaded the bases with no outs and did not score. The Blue Dragons scored an unearned run in the in the fourth. Seward finally plated a run in the sixth. Kevin Connolly led off the inning with a double and advanced to third on a pitch in the dirt. Reed Thompson grounded out to score a run. The Dragons scored three unearned run in the sixth. Seward didn't quit chasing home two eighth inning runs to make it 4-3. Jake Fuller singled and Brent Williams doubled. Connolly grounded out to score a run and Mason Marshall hit a sacrifice fly. Seward scored an I earned run in the ninth to tie it. Hudson Bilodeau reached on an errors and Jordan Leinweber laid down a sacrifice bunt to move the runner to second. Alex White singled but Hutch held picn runner John Solberg at third. Brando Urquizo reached on a fielder's choice to drive home the run to tie it. But Hutchinson scored a run in the bottom go the ninth to win it. JB Olson pitched five and two-thirds allowing four runs but none were earned. Keenan Hall pitched pitched two and two-thirds allowing one run for the loss.
The HCC sweep over SCCC breaks up a stretch of three straight years when Seward won the Hutch series. The Saints are 18-13 overall and 8-6 in the Jayhawk West while Hutch is 19-5 and 8-2 in conference. The two teams play a 1 p.m. In Hutchinson . Game one is only on kscbnews.net while game two is on 1270 and kscbnews.net.