Hutchinson Ends Liberal's Season
Brock Kappelmann - August 9, 2021 6:59 am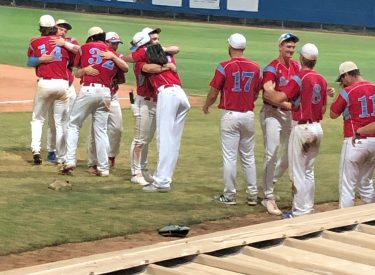 This was not the team you would want to run up against in loser's bracket game.  The Hutchinson Monarchs, the champions of the Sunflower League.   This is not where you would want to play an elimination game, on the opposing team's home field.  Hutchinson beat Liberal 10-2 in eight innings Sunday night at Hobart-Detter Field Hutchinson.
Liberal scored first when Cayd Ward and Scott Anderson singled.  Aidan Shepardson laid down a sac bunt.  Ward scored on a wild pitch.  Hutcinson's Carter Young homered in the bottom of the second to tie it.  The Monarchs scored two in the third after loading the bases with no outs.  One run was unearned.  Cayde Ward hit a sky scraping homer to left in the fourth to make it 3-2.  The Monarchs plated a run in the fifth with two outs for a 4-2 lead.  Hutchinson  scored two runs in the sixth on three hits.  The Monarchs added four in the eighth as the BJ bullpen faltered.
Hutchinson out hit Liberal 13-6.  Liberal had two errors to Hutchinson.  Ethan Swanson started on the mound for the Bee Jays and went five innings allowing four runs.  Payton Strambler, Brady Bowles, and Cole Hillier rounded it out for Liberal.
Liberal finishes 1-2 in the NBC.  They are 5-11 in the past five NBC's going 1-2 in 2021, 2-2 in 2020, 1-2 in 2019, 1-2 in 2018, and 0-3 in 2017.  The Bee Jays finish 29-8.  Hutchinson is 33-13 and advances play Great Bend at Riverfront Stadium in Wichita.
Game audio, pregame through fourth inning:
Game audio, fifth inning to postgame: