Hutchinson Breaks Another Seward Streak
Brock Kappelmann - February 2, 2020 10:01 am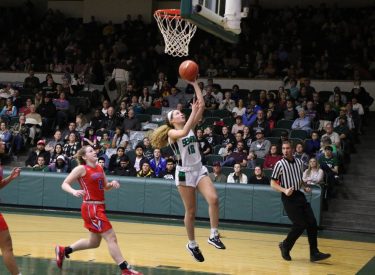 Back in 2004, Hutchinson's women's basketball team came to the Green House and snapped what was a monstrous 135 game home court winning streak.  Saturday night, the #8 Hutchinson Lady Dragons smashed #12 Seward's 61 game home court winning streak.  Hutch used a fast start to hold on to a 72-70 win over the Lady Saints in front of a big Green House crowd.
Hutchinson came out ready to play and jumped out to a 15-2 lead and led 20-5 after one quarter after SCCC committed nine turnovers.  The Lady Saints recovered in the second quarter and cut the Hutch lead to 27-25 and 31-28.  But the Lady Dragons led 36-28 at halftime.  Hutchinson led 57-52 after three.  Seward rallied in the fourth to take a 61-58 lead.  Hutch claimed a 64-61 lead before SCCC came back for a 65-64 lead in a game that was played at a high level by both teams in the fourth quarter.  Hutch claimed a 70-67 lead until Tianna Johnson swished a three from the top of the key to tie the game at 70.  But HCC's Abby Ogle broke down the right lane for a lay up to put Hutch up two with 2.7 second left.  Hutch stripped the ball from Karolina Szydlowska and Seward never got a final shot up.
Karolina Szydlowska had 15 points for SCCC. Tianna Johnson had 14 points and eight assists in the loss.  Leilani Augmon added 14.  Aquila Mucubaquire scored 11.  Seward shot 39 percent while the Lady Dragons shot 47 percent.
Seward had not only won 61 in a row at home, but they had won 10 in a row this season and 33 in row in the Jayhawk.  Seward is 18-4 overall and 13-1 in the Jayhawk West while Hutchinson is 21-2 overall and 13-1 in the Jayhawk West.  Hutch snaps a four game losing streak against Seward and a five game losing skid in the Green House.  Seward loses at home for the first time January 27, 2016 when they took a 77-66 loss to Garden City.
Seward plays at Garden City Wednesday at 6 with Saints Shootaround at 5:45 on 107.5 and kscbnews.net.