Hutch Women Too Much for Seward
KSCB News - February 26, 2015 7:12 am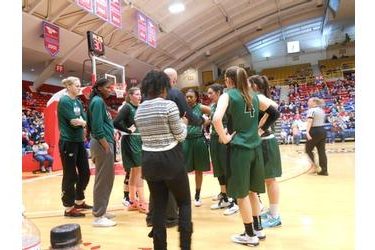 Seward needed to have an on night and catch top ranked Hutchinson on an off night. That didn't happen. The Lady Dragons came out smoking shooting 56 percent from the field in the first half on the way to a 73-51 win over #7 Seward Wednesday night in the Hutchinson Sports Arena. The Lady Saints shot just 28 percent and and just 19 percent in the second half shooting 5-26 in the second half. Seward trailed 41-31 at halftime.
Kyndal Davis backed up her 29 point game Saturday night against Butler with a 20 point game against Hutch. No other player scored in double figures for Seward. Hutch dominated Seward on the glass outrebounding Hutch 45-31.
Hutchinson beats Seward a 12th straight time and wins their 117th consecutive home game closing in on Seward's record of 135 consecutive home wins. Hutch has 36 consecutive conference wins and wins the conference for the fifth consecutive season and has gone undefeated in conference in three of the past four years.
Seward falls to 25-4 and finishes 13-3 in the Jayhawk West. Seward won a coin flip for the #2 seed in the west to stay opposite of the Lady Dragons in the bracket.
Seward hosts Neosho County Saturday night at 6 in the Green House on B107.5 and kscbnews.net. McDonald's is the buyout sponsor.