Hutch Women Hammer Seward
KSCB News - February 28, 2013 7:18 am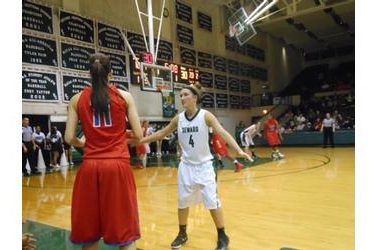 The #3 Hutchinson women used to celebrate wildly on the rare occasion they won at the Green House. Hutch broke Seward's 135 game home court winning streak about ten years ago. But Wednesday night felt like more of a workmanlike 90-62 win over Seward in the Green House. The loss sends Seward packing for the road in the first round of the Region 6 Tournament on Saturday.
It's not that Seward didn't make some noise. The Lady Saints trimmed the Lady Dragon lead to five at 54-49 before Hutch answered with a 3, a 2, and a 3. Hutch went on a 20-3 run and tucked the game to sleep for their ninth win in 10 tries against the Lady Saints. The Lady Dragons were a sizzling nine of 12 from three point range.
Hutch, who won the Jayhawk West for the third straight year, finishes 15-1 in the Jayhawk West and is 29-1 overall. Seward drops their third straight and is 19-10 overall and 10-6 in the Jayhawk West for fifth place.
Seward will play at Allen Saturday at a time to be announced provided Neosho loses at Cowley. The game will air on one of the KSCB stations.
Wed. Feb. 2 7
D2#10 Highland def Neosho County 73-47*
Hesston def D2RV Brown Mackie 77-68**
Coffeyville def Kansas City KS 58-43*
D1RV Cowley def Labette 75-51*
D2#1 Johnson County def Allen 85-40*
D1RV Butler def Dodge City 82-61*
Pratt def Colby 68-44*
Independence def Fort Scott 81-43*
Cloud County def Barton 52-38*
D1#3 Hutchinson def Seward County 90-62*