Hutch Sweeps Seward at Brent Gould
Brock Kappelmann - March 20, 2021 6:44 am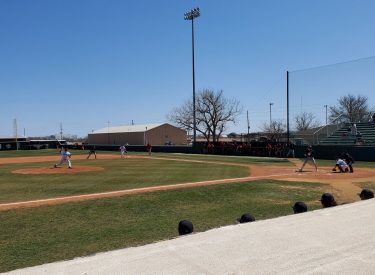 The Hutchinson Blue Dragons came to Liberal and took two from the Seward County Saints Friday afternoon at Brent Gould Field. The Blue Dragons prevailed 3-2 and 8-2.  The game was originally scheduled for Thursday but was moved back one day for better weather after rain and snow on Wednesday.
In game one, Seward scored one in the first before the Dragons plated a second inning run.  SCCC took a 2-1 lead in the fifth before Hutch scored two in the sixth.  Hits were even and eight a piece and HCC had four errors compared to Seward's four errors.  Peter Goldy and Kase Johnson had two hits a piece.  Sam Berberich pitched the distance and was solid but allowed a home run which was the difference.
Hutchinson used the long ball again in game two.  The Dragons left the yard twice in the 8-2 win.  This was a 1-1 game as both team scored in the third.  But Hutch scored seven in the fourth to blow the game open.  Hutch hit two more homers and SCCC did not hit a home run.  KP Werner was 2-3.  Eric Turner replaced starter Colt Bartling on the mound and was solid going 5 and 2/3 scoreless with nine strikeouts and one walk.
Seward is 5-11 overall and 2-4 in the Jayhawk West.  Hutch is 5-1 in the Jayhawk West.  Seward plays two at Hobert Detter Field in Hutchinson Saturday with game one at 1.  Game one will air on kscbnews.net.