Hutch Snaps Seward's 61 Match KJCCC Streak
Brock Kappelmann - March 1, 2021 12:58 pm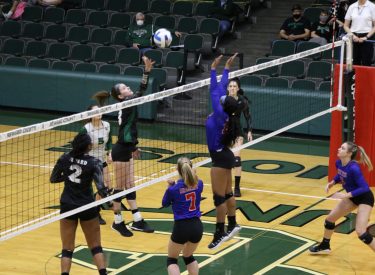 Kenny Hernandez
LIBERAL, Kan.- Seward County Community College volleyball team losses at home 3-1 to Hutchinson Community College and are now 11-4 overall and 6-1 in conference play. The final set scores were 19-25, 17-25, 25-21, and 15-25. This snapped a 61 regular season match-winning streak for the Lady Saints that dated back to the 2016 season. It also marked the first loss in the Greenhouse since the 2017 regional championship match when the Blue Dragons upset the Lady Saints 3-0 to go to the National tournament.
To begin the first set, both teams remained even with an eight all tie through the first points of the match but the Blue Dragons jumped up to an 11-3 run to take a 19-11 advantage. Hutchinson kept the separation for the remainder of the match and took the first set 25-19.
In the second set, the Lady Saints fell behind 9-0 and received a side out on a service error to score their first point of the set. Seward battled back to get back within two points at 15-13 on a block from Seyun Park that forced Hutchinson to burn a timeout. After the time out the Blue Dragons responded with a 10-4 run and closed out the set 25-17.
The third set started with the Lady Saints in a 10-5 deficit but climbed back into the set with a 9-1 run that put Seward ahead 14-12. Seward found ways to capitalize off of unforced errors and started to set Park in the middle that turned into a successful strategy. With a 19-18 advantage, the Lady Saints closed out the set with a 6-3 run to win the third set 25-21.
For the final set eh Lady Saints once again trailed early on 10-4 and looked to battle back. This time the Blue Dragons denied the Lady Saints of a fifth set and controlled the fourth set from start to finish. Seward found themselves trailing 20-9 and traded points for the final points to end the set at 25-15.
Seward County was led by Gabriela Badilla with 14 kills, three assists, and added one solo block. Seyun Park had 11 kills on 27 attempts and one solo block.
The Lady Saints will look to bounce back at Independence on Monday, March 1st at 6:30 pm in Independence, Kansas.