Hutch Sinks Saints Despite Dubinsky's Milestone Night
Brock Kappelmann - February 23, 2023 7:12 am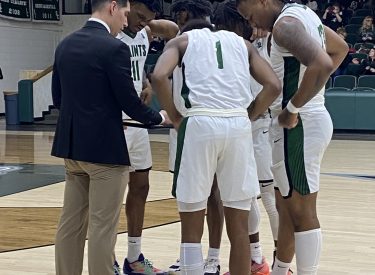 Seward's Wilson Dubinsky has moved into second in career three pointers at SCCC.  But his four three's weren't enough as the Hutchinson Blue Dragons spoiled Seward's Sophomore Recognition Night 76-71 Wednesday night in the Green House.
The Blue Dragons jumped on the Saints early taking leads of 23-14, 25-16, and took their biggest lead of the night at 33-18.  Hutch led 41-29 at the half.  The Saints rallied in the second half.  A Jaylin Henderson left corner three pointer made it 51-50 Hutch.  Seward took the lead 54-53 with 7:50 to play.  The Saints led 57-53 and led 59-56 with 5:00 remaining.  The Dragons roared back to lead 61-59 with 4:00 to play.  Hutch took a seven point lead 68-61 with 1:40 on the clock.  Seward cut the lead back to three at 72-69 but Hutch made free throws down the stretch.
Hutchinson out rebounded Seward 44-23.  Hutch won despite 20 turnovers.  Seward committed 13 turnovers.  Seward lost despite shooting 50 percent and making 8-14 from three point range.  The Dragons shot 48 percent from the field and made 7-23 from three point range and 11-15 from the foul line.  Hutchinson out rebounded Seward 44-23.
Mario Whitley had 22 point and five rebounds.  Wilson Dubinsky scored 16 and made four three pointers.  He has 154 three pointers in his career.  He passes Michael Tyree (153) for second most in Saints history.  Carlo Walton made 159.
Since Seward defeated the Blue Dragons in the 2019 Regin 6 championship game, Hutch has won seven straight in the series.  Hutchinson is 18-11 and 12-11 in the Jayhawk.  The Saints drop their third straight for the second time this season.  Seward is 13-16 overall and 9-14 in the Jayhawk.  Seward plays at #15 Coffeyville Saturday at 4pm on 107.5.