Hutch Makes it a Four Game Sweep Over Saints
Brock Kappelmann - April 3, 2022 11:30 am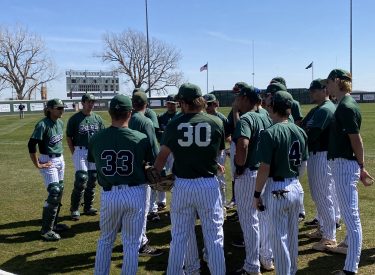 For the second time in four Jayhawk West series, the Seward baseball team lost all four games.  It will be difficult to climb out of the hole the Saints are in as they fall to 4-12 in the Jayhawk West.  The Hutchinson Blue Dragons swept the Saints 8-3 and 16-6 in seven innings Saturday afternoon at Brent Gould Field.
In game one, the Blue Dragons scored in the first four innings with one in the first, two in the second, two in the third, and one in the fourth to lead 6-1.  Hutch tacked on two more in the sixth.  Seward scored in the third thanks to Ranse Radtke's RBI single.  Tristan Curless launched a two run home run in the sixth for his first of the season.  Hutchinson out-hit SCCC 10-6 and both teams made a pair of errors.  Chance Helton tossed a pair of shutout innings in relief of Dylan Day.
In game two, the Dragons struck for two runs in the each of the first three innings before a six spot in the fourth.  HCC added four in the fifth.  Seward hit better in game two matching the Blue Dragons in the first two innings.  The Saints scored two in the first when Tristan Curless ripped a two run home to the left of center.  Gannon Hardin was hit by a pitch and Brody Boisvert doubled.  Ranse Radtke put together a great at bat and ripped a two out two RBI single to center to tie the game at 4-4 after two.  Javier Gomez singled home a run in the sixth.  Seward committed three errors and allowed seven unearned runs.
The Saints plummet to 11-26 overall and 4-12 in the Jayhawk West.  Hutchinson is 18-12 and 8-4 in the Jayhawk West.  Seward plays at Clarendon on Tuesday at 3pm and has the bye in the Jayhawk West and does not play next weekend.  Their next broadcast game on 1270 and 92.3 and next conference game is home with Barton April 14 at 1pm at Brent Gould Field in Liberal.