Hutch High Hires Cornelsen
KSCB News - January 7, 2014 1:02 pm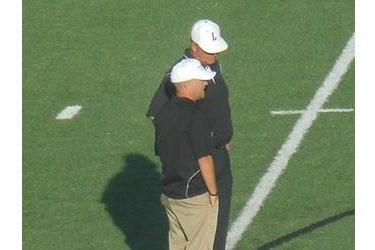 Hutchinson's Liberal connections came in handy. Liberal native and Hutchinson Athletic Director Eric Armstrong has a Liberal native as the next football coach of the Salthawks. Ryan Cornelsen is leaving Hays to take over the Hutch High job after Randy Dreiling left for St. Thomas Aquinas. Cornelsen, 1997 LHS graduate, was 35-12 at Hays and won or shared WAC titles in four of those five seasons. He led the Indians to the playoffs in 2011 and 2012. Hays hadn't been in the postseason since Cornelsen was a student at LHS in 1995. Ryan was 53-13 at Lacrosse before taking the Hays job.
The man for whom Liberal's sports complex is named, Gary Cornelsen will join his second born son in Hutchinson during football season and live in Amarillo during the offseason. Ryan will also be an assistant track coach after leading the Indians to four straight state championships in 5A track.
Cornelsen replaces Dreiling who coached the Salthawks 17 years and won seven state championships in nine title game appearances.