Hutch Finishes Third At Juco World Series
KSCB News - June 4, 2010 12:00 am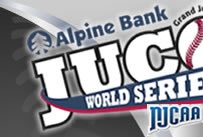 The Hutchinson Community College baseball tea s scintillating run through the 2010 postseason came to an end on Thursday night at Suplizio Field.
Top-ranked San Jacinto-North took advantage of four throwing errors and two Gator pitchers combined to strike out 15 HCC batters as Hutchinson fell in the NJCAA World Series national semifinals 12-8 before 8,272 to complete its trip to Grand Junction with a 2-2 record.
The 19th-ranked Blue Dragons (39-24) earned their best national finish in two trips to Grand Junction, finishing third. Hutchinson becomes only the fourth Jayhawk Conference school in conference baseball history to finish in the top four at the NJCAA World Series joining Cowley College, Allen County and Butler.