Human Trafficking Arrests Made in Garden City
Joe Denoyer - August 16, 2023 3:50 pm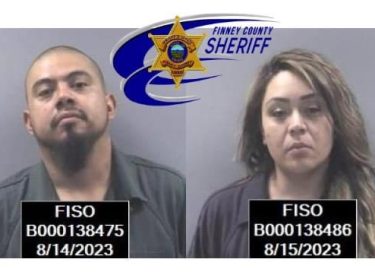 On Monday, August 14th, Finney County Sheriff's Deputies responded to an address in Finney County in reference to a landlord versus tenant dispute. Upon arrival, deputies learned the situation involved immigrants from multiple countries being housed at the residence for work. Preliminary investigation discovered the occupants, including some minor children, weren't being paid or cared for properly. This information led to an investigation into human trafficking.
Multiple search warrants were applied for and granted for the identified addresses where at least 16 individuals were found, some of which were minors.
Jose Castillo-Alegria (32) and Betty Palomino (38) have been arrested on suspicion of human trafficking for transporting at least sixteen individuals into Finney County and housing them at several properties in and around the Garden City, Finney County, KS area for the purposes of labor.
Castillo-Alegria was arrested and lodged in the Finney County Jail and the Finney County Sheriff's Office is requesting the following charges:
• Aggravated Human Trafficking; Recruit/Harbor/Transport Child > 14
• Human Trafficking; Threaten to Withhold Food, Shelter, or Clothes
• Crimes of Human Smuggling and Aggravated Human Smuggling
Palomino was arrested and lodged in the Finney County Jail and the Finney County Sheriff's Office is requesting the following charges:
• Aggravated Human Trafficking; Recruit/Harbor/Transport Child > 14
• Human Trafficking; Threaten to Withhold Food, Shelter, or Clothes
• Interference of a Law Enforcement Officer
*The person(s) involved has not yet been convicted of a crime and are presumed innocent. The presumption of innocence shall continue until such time that the person(s) accused may be found guilty by a court of law.*