Hugoton's Rodriguez Wins USTFCCA Kansas Coach of the Year
Brock Kappelmann - January 12, 2017 6:42 am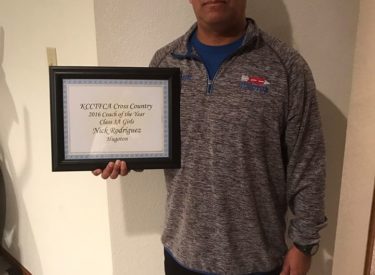 Hugoton head cross country coach Nick Rodriguez is the Kansas coach of the year.  That's according to a national coach's association. Hugoton's girls won the state cross country title this fall.

The U.S. Track & Field and Cross Country Coaches Association (USTFCCCA) announced Wednesday the state-by-state winners of its third annual High School Coach of the Year award for cross country.
State-by-state winners were selected based on their teams' performances throughout the 2016 cross country season. Among the factors taken into consideration were team score and placement at the state championships, margin of victory, performance against rankings if available, individual championships, and how their teams' performances stacked up to previous years (e.g. first title in school history, consecutive titles, etc.).
Each honoree will receive a trophy from the USTFCCCA recognizing his or her achievements.
The winners from each state are in consideration for the association's National High School Cross Country Coach of the Year award. One boys coach and one girls coach from among all the states will be selected by a panel of experts and be announced later this month as the national winners.