Hugoton's Kinser Takes 2nd at NAIA Championships
Joe Denoyer - May 30, 2021 1:43 am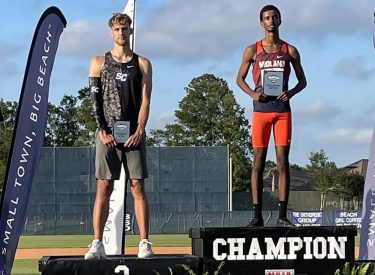 GULF SHORES, Ala. – Tony Kinser (JR/Hugoton, Kan.) of Southwestern College track and field earned national runner-up on Thursday at the NAIA National Championships, grabbing second place in the men's high jump with a mark of 2.08m.
Kinser entered the national stage tied for the third seed and started off clearing 2.00m on his first try. He then leaped up and over 2.05m on his second attempt to move him on to the next phase. Next, Kinser cleared 2.08m to advance him and just one other on to the 2.11m mark. Kinser's jump at 2.08m was successful on the first attempt, while seven others in the group were eliminated during this height to guarantee him at least second place. Kinser was unable to surpass 2.11m, earning him runner-up at the national championships.
"We are so proud of Tony," head coach Tim Thompson said following the performance. "Going from having not jumped in over two years to being the national runner-up, he's accomplished so much in just this one season. I am also extremely proud of Coach Garrett Young, who worked closely with Tony and now has coached his first All-American in his career. I can assure it won't be his last."
With the second place finish, Kinser also earned All-American in the event. He caps off the season with a KCAC individual championship and now a national runner-up accomplishment. The placement also earned the Moundbuilders eight points in the team standings, putting them in 17th out of 48 teams who scored on day two of nationals.