Hugoton Teens To Perform At Carnegie Hall
KSCB News - December 9, 2010 12:00 am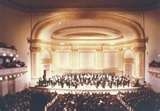 Two southwest Kansas high school students are preparing for a big honor. The Hugoton High School seniors will be performing in New York ??s Carnegie Hall.
For Tyrell Sandoval and Katie Omo, singing isn ??t just a hobby — it ??s a passion.
"Tyrell and I are singing all the time and people are like, ??What are you doing? ? and we're like, ??Sorry, we can't help it, ?? ? Kaite said.
It ??s a shared passion between two close friends.
"Tyrell ??s just always kind of been there singing with me, ? Katie said.
"Singing buddies — that's what we are, ? Tyrell said.
And when the two Hugoton seniors earned All State singing honors, they were given the opportunity to audition for a once in a lifetime performance at the legendary Carnegie Hall in New York City.
"I was like this is like a major stab in the dark, because there are a million people trying out for this one honors choir, ? Tyrell said.
Only 200 students from the U.S. and Canada would make the honor chair.
"We ended up making it and it was the most exciting thing ever, ? Katie said.
They got to Carnegie Hall the old fashioned way.
"You practice, practice, practice, ? Tyrell said.
Hours were spent in the choir room and outside perfecting their craft.
"I just stay by the piano and make sure I get the notes and things until it all comes perfectly together, so yeah it does take a lot of work outside of school, ? Katie said.
But it will all pay off when they step onto one of the world ??s most famous stages in February.
"Practice does pay off — that's one message you have to get out there, ? Tyrell said. ??Practice does pay off."
Katie hops to one day get a doctorate in music education and Tyrell has his sights set on another stage in New York.
??Go onto Broadway and see what I can do on Broadway, ? he said.
And with a lot of practice, he just might be on his way.