Hugoton Rolls Past McPherson for State Title
Brock Kappelmann - March 12, 2023 7:48 am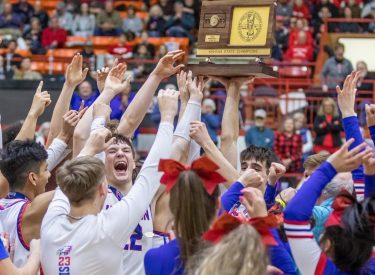 By: Larry Moritz, KSHSAA Covered Contributor
SALINA — The Hugoton fans were more than willing to make the round trip of 500-plus miles to watch their Eagles basketball team play for a state title.
After all, the Hugoton boys had already come so far, in a figurative sense, to get to the top of Class 4A.
The Eagles rewarded that enormous fan following with an electrifying performance, leading from start to finish in a 67-58 victory over perennial state power McPherson in the 4A championship game Saturday afternoon at Tony's Pizza Events Center.
It was the first state title in boys basketball for Hugoton and only the second championship game appearance in the program's history. The loss denied McPherson what would have been its 14th state title, second in Kansas only to Wyandotte.
"This means so much to all of us," Hugoton senior Carson Bennett said. "It's huge for the whole community and for all those kids who look up to us."
"It means a lot to us and the people of Hugoton," said junior Dasean Lewis. "It's always a packed gym whenever we play at home so this means a lot for our whole community, getting the first state championship for the boys.
"That was pretty much the whole community here today. They're willing to drive unlimited hours to come watch us play."
Those Hugoton fans watched the Eagle girls team win the tournament's third-place game over Andale shortly before the Hugoton boys took the court. What they saw may have even surprised some of those supporters who followed them throughout this season.
Hugoton scored the game's first seven points and led 19-9 after one quarter. The Eagles made 9 of their first 12 shots from the field, including four 3-pointers, and were up 24-11 after reserve Griffin Heger connected from behind the arc early in the second quarter.
"We've always talked about getting off to fast starts and tonight was no different," Hugoton coach Trey O'Neil said. "We were swinging from the get-go. We made some shots and got some stops. McPherson called an early timeout and it was on from there."
McPherson cut that deficit in half with a 9-2 run of its own, but buckets from Emmett Gaskill, Lewis and Ryle Riddlesperger — the last just before the buzzer — put Hugoton up 33-22 at halftime.
"We stuck to coach's game plan from the beginning," Lewis said. "We knew we had good scorers and that Ryle and Carson would start us off hot, and all of us had to play good defense."
"You have to give them credit," McPherson coach Kurt Kinnamon said. "It wasn't like they were wide open looks because we were out of position. They just made shots and made shots that were contested.
"They made shots that if one of my guys took them, I might consider it a bad shot. But they weren't bad shots for them."
McPherson cut into the deficit in the third quarter and when Kyden Thompson opened the fourth with a bucket, the Bullpups trailed by only four points, 43-39.
Hugoton neither panicked nor faltered. In a span of two minutes, the Eagles scored on five consecutive possessions.
Bennett had the first three baskets in that run, and his 3-pointer was followed by back-to-back baskets from behind the arc from Lewis and Riddlesperger.
"After the adrenaline is gone, it comes down to who wants it more," Bennett said. "We had to be mentally tough and finish the job."
"We always start slow coming out of half but we realized we only had two more quarters to make this happen," Lewis said. "When we realized that, we started to go."
The Bullpups tried to make one final run, getting as close as six points with inside two minutes to play. Hugoton closed it out by making 7 of 8 free throws in the final 90 seconds.
"Every time we'd make a little bit of a run, they'd have some sort of answer," Kinnamon said. "They are just a very fine basketball team. We knew they were really skilled basketball wise, but they are athletic and they are well coached."
"We knew McPherson was going to come back," O'Neil said. "They came out and hit us right in the mouth coming out of halftime.
"They are a well-coached team and this is pretty much their second home. To be able to pull this one off, keep our composure and lead from start to finish says a lot about our team."
Lewis had 13 of his team-high 18 points in the fourth quarter. Bennett and Riddlesperger had 14 and 13 points, respectively, in their final high school game. Gaskill was 4 of 5 from the field, 4 of 5 from the line, had 12 points and eight rebounds.
McPherson had only one senior on the roster in Mason Miller. Junior Cory Muehler had eight of his 22 points in the fourth quarter to keep his team close, while Thompson finished with 17 points and seven rebounds.
"They're young," O'Neil said. "They lose the big guy down low but they'll be back here next year and I guarantee they will be even better."
"The future is bright," Kinnamon said. "Mason Miller is a huge part of our success but we're young.
"There's really not anything to be upset about other than the final score. They did what I asked and they did it as hard as they could."
CLASS 4A BOYS STATE TOURNAMENT
CHAMPIONSHIP GAME
HUGOTON 67, MCPHERSON 58
McPherson … 9 … 13 … 15 … 21 … — … 58
Hugoton… 19 … 14 … 10 … 24 … — … 67
McPherson (21-4) – .O. Pyle 2-5 2-3 6, Muehler 6-6 7-8 22, Thompson 6-10 5-6 17, Kr. Kanitz 3-10 1-3 7, Miller 2-4 0-0 4, Ka. Kanitz 0-0 0-0 0, Hoxie 0-1 0-0 0, G. Pyle 0-7 0-1 0, Boese 0-0 0-0 0, Wedel 1-1 0-0 2, Razak 0-0 0-0 0. Totals 20-44 15-21 58.
Hugoton (23-2) – Lewis 3-3 9-12 18, Riddlesperger 5-13 0-1 13, Bennett 6-10 0-0 14, Martin 2-4 0-2 4, Gaskill 4-5 4-5 12, Heger 2-5 0-0 6, Delgado 0-0 0-0 0, Hernandez 0-0 0-0 0, Niehues 0-0 0-0 0, Harris 0-1 0-0 0, Jimenez 0-0 0-0 0. Totals 22-41 13-20 67.
3-point goals – McPherson 3-13 (O. Pyle 0-3, Muehler 3-3, Thompson 0-1, Kr. Kanitz 0-1, G. Pyle 0-5); Hugoton 10-24 (Lewis 3-3, Riddlesperger 3-10, Bennett 2-5, Martin 0-1, Heger 2-5). Rebounds –  McPherson 26 (Thompson 7); Hugoton (27 (Gaskill 8). Assists – McPherson 8 (G. Pyle 4); Hugoton 8 (Riddlesperger 3). Turnovers – McPherson 11, Hugoton 8. Total fouls – McPherson 16, Hugoton 17. Fouled out – McPherson: Muehler.
Girls
HUGOTON 44, ANDALE 38 — Hugoton made just enough free throws in the closing minutes to hold off Andale in the 4A girls third-place contest on Saturday afternoon.
Hugoton (19-6) led by as many as 11 points in the third quarter, but saw that advantage cut to four (37-33) after a basket from Andale's Kyri Kerschen with 3:15 remaining in the game.
Hugoton senior Mikyn Hamlin answered at the other end with a driving lay-in and the Eagles made 5-of-9 free throws in the final two minutes to close it out. Andale's struggles at the free throw line (1 of 7) in the fourth quarter hampered the Indians' comeback effort.
Hamlin and senior teammate Summya Adigun had 16 points each for Hugoton, with Adigun also contributing seven rebounds, four assists and four steals. Andale (20-5) was led by Kerschen's 10 points.