Hugoton Prevails in Liberal
Brock Kappelmann - February 16, 2022 6:52 am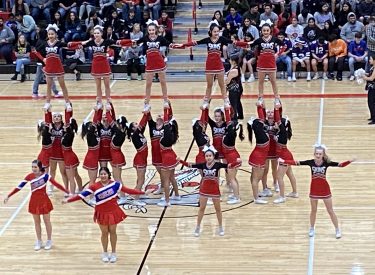 Despite an off shooting night from three point range, the Hugoton Eagles held off a desperate Liberal effort in a 72-62 Hugoton win in the Big House Tuesday night in the Big House.  The Redskins played one of their better games of the season against the #6 team in 3A.  It was Senior Night and the final home game for the Redskins.
The Redskins came out ready for their eight seniors.  Shay Kerr buried three first quarter 3's and LHS led 10-6.  Hugoton led 23-21 after one quarter.  The Skins led 33-32 with 1:30 to play in the first half.  The Eagles led 36-33 at halftime.  Hugoton built a nine point third quarter lead at 46-37.  Liberal used a 9-2 run to cut the Hugoton lead to 48-46.  Hugoton's 8-2 run gave the Eagles a 56-48 lead after three.  The Eagles led 59-51 early in the fourth quarter but Liberal rallied to make it 64-59 HHS with 3:08 to play and an Izzy Rotolo banker from the left baseline made it 64-62 Hugoton with 1:40 remaining.  But it was all Eagles to close it out.
Hugoton was 17-31 at the foul line and Liberal was 12-15.  LHS was 7-18 from three and the Eagles had an off shooting night from three point range going 3-15.
Hugoton is 14-3 and plays at Holcomb Friday and Liberal is 4-13 and finishes 3-7 in the Big House.  Liberal plays at Great Bend Saturday night at about 7:45 on 1270, 92.3, and the KSCB and The Legend App.