Hugoton Looking to Break Through
Brock Kappelmann - August 24, 2023 1:53 pm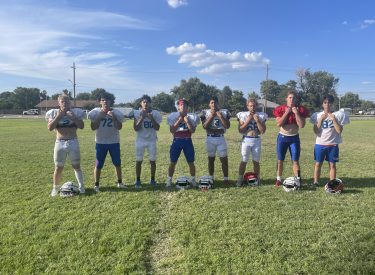 Hugoton had a banner sports year last school year.  The Eagles won the state basketball title in March.  Last fall, the Eagles were a solid and respectable 6-3.  But only one score losses to Scott City and Holcomb prevented them from a breakthrough season.  That's what the Eagles are looking for in 2023 under third year head coach Jay Witt.  They have 48 out for football with seven starters returning on offense and six back on offense.
Isaac Martin returns at quarterback in the flex bone.  He rushed for 625 yards and passes for 826 as a junior.  He will also play outside linebacker in Hugoton's 4-4 defense.  Sebastian Gonzales returns at center and defensive end.  He was all GWAC last year after registering 56 tackles and three sacks.  Griffin Heger moves to fullback on offense and was strong on defense in 2022 with four interceptions.  Also look out for Jr. DE Grant Neihaus, and Sr. LB Blake Miller.    Linebacker is a key spot for the HHS defense after losing stalwarts Cade Reynolds and Kaden Jackson to graduation.
There are high hopes for the near future of the program and for the next few years.  The current freshman and sophomore classes were undefeated in junior high.
Hugoton was featured during the Sportsguys Tuesday morning.