Hugoton has Reason to Believe
Brock Kappelmann - August 31, 2020 1:50 pm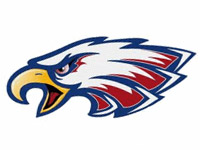 The reasons are numerous.  First of all the numbers indicate the Eagles are on the uptick.  They have about 60 out for football at the 3A school.  They return 10 starters back on offense and eight back on defense from at team which went 4-5 and won three of their last four last season.  They are determined.  During an interview on the Sportsguys last week, players said they improved themselves in the weight room last spring when sports were shut down. Nick O'Laughlin enters his third season coaching his alma mater after back to back 4-5 seasons.  The Eagles are close to turning the corner.
Some of the key Eagles are Sr. LT Abraham Garcia, Sr. center Jonathan Roa, Sr. RG Jason Coreno, Sr. RT Gerardo Rubio, Sr. WR Wyatt Angell, Sr. TE/LB Riggs Martin, SR. QB/S/CB Sawyer Harper, Sr. WR/LB Hayden Daharsh, Jr. DE/ Cade Mecklenburg,  Sr. DT Joe Sanchez, Sr. DE Ross Grewell, So. OLB Adam Mendoza, Sr. OLB Andreas Salinas, So. CB Santiago Macias, JR. CB Ashton Burrows, and Ray Cero comes in from Elkhart.
Hugoton was featured during the Sportsguys on Friday.
September 4- Colby
September 11- Ulysses
September 18- at Guymon
September 25- at Cheney
October 2- Nickerson
October 9- at Pratt
October 16- Larned
October 23- at Holcomb