Hugoton Girls Make History
KSCB News - March 12, 2014 2:03 pm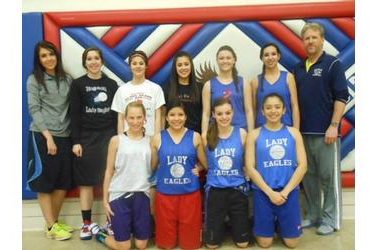 Megan Cornelsen's mon and aunt both experienced this. Megan, a sophomore on the state bound Hugoton girls basketball team, has a mon and aunt who played on the last Hugoton girls team to make it to state back in 1993. But this Hugoton program who makes it to state in the first year of 4A Division 2, looks to have stay power.
Hugoton is 19-3 and doesn't have a senior on the team. They are led by five juniors, one sophomore, and three freshman while Hugoton's middle school girls teams were dominant this fall. Coach Andy Gillen has seen the program grow from a perennial loser to one of the most up and coming programs in western Kansas. Two years ago, Hugoton went 15-6 and won a game at sub state for the first time in 19 years. Last year HHS was 17-6 and lost to Pratt in the finals of sub state.
After losing a very good senior class from last year which included Hutch volleyball player Nicole Kinser, Hugoton reloaded with freshman. The class has made a splash by becoming the top three scorers on the team. Katy Heger leads the team a 15 points per game while classmates Amy Scott (13ppg) and Melissa Fabela (9ppg) are also very productive. The juniors are the heart and soul of the team led by 5'7" Riley Sosa who also happens to be the tallest player on the team. Classmates Steph Armendariz, Taylor Fiss, Ana Pena, and Sofia Jimenez along with sophomore Megan Cornelsen make up a nine man rotation.
Hugoton opens play in 4A Division 2 at Hartman Arena north of Wichita Wednesday night against 15-7 Holton.