Hugoton Girls Eye Another State Title
KSCB News - March 8, 2016 2:42 pm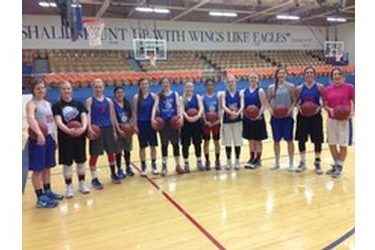 The 22-1 number one ranked Hugoton girls have reached a place they were expected to be. Returning most of their team which won the state in Park City a year ago, Hugoton wore the #1 ranking in front of their name comfortably all season. The Lady Eagles are in the 4A division 2 state field for a third consecutive year after traipsing through their sub state 57-27 over host Goodland and 62-28 over Holcomb. The 21-1 HHS girls only loss game to 21-1 Sterling on the road.
One of the remarkable aspects of the 2015-16 season is the fact that the Hugoton girls remain young. They are led by juniors Katy Heger (18ppg) and Amy Scott (16ppg). They are flanked by starting sophomores Dallie Hoskinson (12 ppg and six triple doubles), Jo Rawlins (6ppg), and Brooklynn Harper (8ppg). Senior Sarah Johnson, sophomore Laney Hoskinson, and freshman Becca Johnson provide help off the bench. Andy Gillen is in his fourth season as head coach.
Hugoton opens state in Emporia's White Auditorium against 9-13 Wichita Collegiate Wednesday at 6:30. Click on the audio icon to hear the Hugoton interviews which aired during the Tuesday morning Sportsguys.