Hugoton Fights Off Liberal at the Foul Line
Brock Kappelmann - February 16, 2022 6:49 am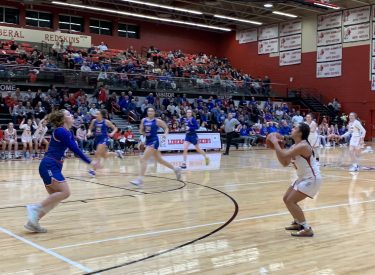 The Hugoton Lady Eagles won a thrilling game with the Liberal Lady Redskins Tuesday night in the Big House.  Hugoton built a nine point fourth quarter lead before at furious LHS rally sent the game to overtime.  HHS held off Liberal in Hugoton's 4th overtime game of the year 67-59.  The Lady Eagles landed at the foul line most of the night going 28-42 while Liberal was 6-8.
Liberal led 11-10 after one quarter and led 14-10 early in the second quarter.  Hugoton took a 23-16 lead in the second quarter and led 26-25 at halftime.  The Lady Eagles led 39-31 with 3:14 to play in the third and led 43-36  and led 46-39 after three quarters.  Hugoton took a 50-41 lead before Bree Horyna and Ashley Carrillo buried 3's to make it 50-47 with 5:00 left.  Liberal cut the lead to 52-50 but Hugoton led 54-50 with 2:38 to play.  Liberal got to within one at 54-53 with 2:05 to play.  It was 56-55 Hugoton with 1:05 remaining.  Liberal tied the game on a pair of Ashley Carrillo free throws with 22.9 seconds left.  Liberal's stop at the end of regulation sent the game to overtime.
Mikyn Hamlin led Hugoton with 29 points.  Gianna Vos and Summya Adigun had 13 a piece.   Liberal's Ashley Carrillo scored 25 with five assists and Bree Horyna had 15 points and 13 rebounds on Senior Night.  Hugoton shot 41 percent from the field and Liberal shot 38 percent.  Despite the free throw discrepancy, Liberal stayed in the game by making 11-25 from three point range.
Liberal is 12-5 and had dropped two straight.  Hugoton is 15-2.  Hugoton snaps a five game losing streak against Liberal and defeats the Lady Red for the first time since 2017.  Hugoton plays at Holcomb Friday.  Liberal plays at Great Bend Saturday night at 6 with Redskin Pre-game at 5:45 on 1270, 92.3, and the KSCB and The Legend App.