Hugoton City Employees Stop Fire
Joe Denoyer - October 30, 2018 12:12 pm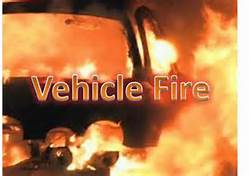 Quick action by two City of Hugoton employees help minimize damage caused by a fire.
At approximately 9:00 a.m. Tuesday October 30th, Kenny Burrows and Chris Crawford were in the 800 block of Jackson in Hugoton and saw a vehicle under a carport on fire. They quickly used their pick-up to pull the vehicle on fire into the roadway to prevent the fire from spreading to the home.
The Fire Department and Police Department were dispatched to assist. There were no injuries however; the vehicle is a total loss.