Huelskamp Running Uncontested in 1st District
KSCB News - June 13, 2012 8:37 am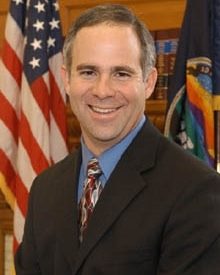 U.S. Rep. Tim Huelskamp could ice-skate to re-election on the Kansas summer prairie.
He claimed victory two years ago by amassing 73.7 percent, even though a Democrat and Libertarian were on the ballot, too.
On Tuesday the filing deadline passed with no Democrat filing. No Libertarian is running, and Huelskamp won't face a Republican challenger, either.
Of Kansas' four members in the U.S. House of Representatives, only the Big First had only the incumbent filing to run. There will be contests in the other three districts.
"It wasn't for lack of trying," said Kansas Democratic Party Chairman Joan Wagnon, of efforts to recruit a challenger to take on freshman Congressman Huelskamp, with residences in Fowler and Hutchinson.
She said a Democrat considering the race received a job promotion and decided not to run this time but remains interested in a future bid for the 1st congressional seat.
Wagnon subsequently talked with six different people, but the tight timeframe for developing a campaign discouraged them.
Kansans for Huelskamp's campaign war chest held over $420,100 as of the end of March.
Wagnon thinks the conservative Republican is vulnerable, and that the congressional race in the 1st District could be a different story in two years.