Huelskamp – Jilka To Debate
KSCB News - September 17, 2010 12:00 am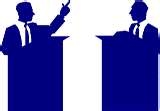 The Republican and Democratic candidates in
Kansas' 1st Congressional District are set to have two debates
before the Nov. 2 general election.
Republican state Sen. Tim Huelskamp, of Fowler, is scheduled to
face off against Democrat and former Salina Mayor Alan Jilka on
Sept. 27 at Emporia State University.
Their other debate is Oct. 21 in Salina.
Huelskamp and Jilka are seeking the U.S. House seat now held by
Republican Jerry Moran, who's running for the U.S. Senate.
Before the August primary, Huelskamp and Jilka participated
together with other candidates in three other forums.