Huelskamp Announces Second Leg Of Town Hall Tour
KSCB News - February 18, 2011 4:41 pm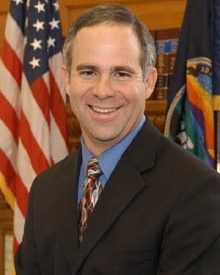 Only days after wrapping up his first set of 14 town hall stops, Kansas Congressman Tim Huelskamp announced an additional town hall meetings the third week of February.
Congressman Huelskamp plans to visit all 69 counties in the First District of Kansas this year, continuing the tradition of predecessors Senators Jerry Moran and Pat Roberts .
"During the first 14 town hall meetings I enjoyed meeting with and hearing from my constituents face-to-face," Congressman Huelskamp said. "They raised concerns about the deficit, debt, healthcare, and immigration. I look forward to continuing this discussion with constituents in other parts of the district on these and other important issues facing our country and state."
Constituents with questions about the event should contact Congressman Huelskamp's Salina office at 785-309-0572 . Media with questions about the event or with interest in scheduling interviews with Congressman Huelskamp while he is in the District should contact Karen Steward at 202-225-2715 .
Congressman Tim Huelskamp of Fowler, Kan. was elected to the U.S. House of Representatives in November 2010. His Committee assignments include Agriculture, Budget and Veterans Affairs . For more information, please visit http://huelskamp.house.gov .
Congressman Huelskamp's Town Hall Schedule Includes:
Monday February 21
10:00 AM-11:00 AM Cimarron Town Hall (Gray County)
Location: City Library, 120 N. Main, Cimarron, KS 67835
Wednesday February 23
11:30 AM-12:30 PM Johnson City Town Hall (Stanton County)
Location: Senior Center, 205 East Weaver Avenue, Johnson City, KS 67855
2:00 PM-3:00 PM Elkhart Town Hall (Morton County)
Location: City Hall Auditorium , 433 Morton Street, Elkhart, KS 67950
4:00 PM-5:00 PM Hugoton Town Hall (Stevens County)
Location: Common Grounds Coffee Shop, 531 S Main StHugoton ,KS 67951