Hubcaps Win National Beef Cornhole Tournament
Brock Kappelmann - September 20, 2021 6:06 am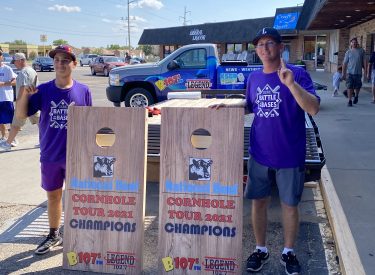 The Grand Finale National Beef Cornhole Tournament came to Broadcast Square  Saturday. . There was Chamber of Commerce Ribbon Cutting  followed by an Open House at the businesses at Broadcast Square. The Hubcaps, Bryan and Skylar Hubbard won the National Beef Cornhole Final Tournament and won one thousand dollars custom cornhole boards, and a beef bundle from National Beef.    Teams  have been competing all summer long at tournaments throughout the area with Rocky and Ryan Baalmann being the points Champions with 181 points as they only missed 2 events
25 contestants who registered at the various events  rolled the dice to try and win a 2021 Honda Accord provided courtesy of Ghumms Auto Center, and Duane Willson of Hugoton won $1,500 worth of Kanyon patio furniture courtesy of Flatlanders Farm and Home in Hugoton.
There were bounce houses, Kozy's Sn0-Cones, free food, and 3-$1000 Scholarships awarded by El Rancho Super Mercado. Winners of the scholaships were Lelanie Torres, Luz Tercero Vargas, and Malloree Schlessman. This event was free and open to everyone.
The National Beef/KSCB/The Legend Cornhole Tour was also cosponsored by Board Sponsors Billy's Ayr Lanes and Keating Tractor and Equipment. Lane Sponsors included Bank of Beaver City, Southwest Roofing FJ Wrapz and Graphics, El Ranchito, with the Cornhole bags sponsored by Squeaky Clean Car Wash.