How to Get Tickets to Saints Games
Brock Kappelmann - November 13, 2021 6:43 am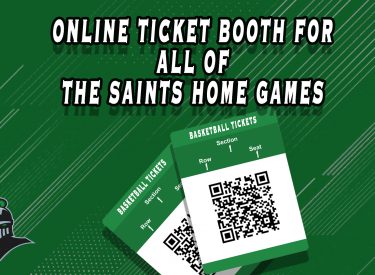 Liberal, KS – As the Seward Saints Basketball teams start to play their home games, we wanted to remind the Seward faithful about the process to get tickets for game days.  Some things are still the same, but in many ways, it will be different.
Most of the Saints Home Games will have a buyout sponsor.  You can find the list of every home game and what sponsor and location of tickets by following this link:
The main difference is that the Saints are using a digital ticketing platform.  When you go to the Gameday sponsor, there will be a QR code or link you can put into your phone to claim your tickets.  Make sure you get the special code for each game, only at the gameday sponsors.  Any individuals that need additional help can request a voucher from the buyout sponsor that will let them claim tickets at the game.
The tickets that you can claim at the gameday sponsor are good for General Admission seating.  General Admission will be above the mezzanine in the green seats, or anywhere on the bleacher side.  If you would like to sit in the lower bowl green seats, you have 3 options: You can purchase a reserved seat for the middle section, you can join the Saint Booster Club, or you can purchase a single game ticket for $10.
Anyone who would like to purchase tickets online in advance can do so, following this link:
For more information, please contact Athletic Director Dan Artamenko at 620-417-1550