Hot Shooting Busters Bury Saints
Brock Kappelmann - March 4, 2021 7:24 am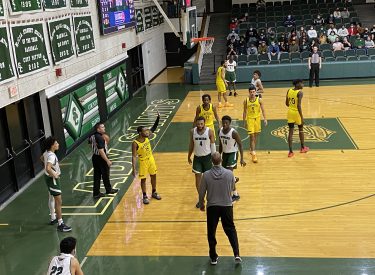 The Garden City Broncbusters made 56 percent of their shots in handing the Seward County Saints their fifth straight loss 89-82 Wednesday night in the Green House.  The Busters made 17-28 three pointers for 61 percent shooting from beyond the arc.
GCCC jumped out to leads of 9-2, 15-5, and 19-8.  Seward trimmed the lead to 24-24  and grabbed a 27-26 lead and Jordan Chambers heated up beyond the arc.  The Broncbusters had answers and led 48-39 at the half.  Garden led 67-51 before the Saints made a 10-0 run to make it 67-61 with 8:08 to go.  Bee McCrary played for the first time this season and sparked Seward.  But the Saints couldn't get enough stops.
While Garden City scorched the nets, Sewad shot 37 percent, 28 percent (8-29) from three, and 26-40 from the foul line.  Garden shot 56 percent from the field, 61 percent from three, and 16-24 at the foul line.
Sam Henderson scored 18 to lead SCCC.  Kevon Cooper had 16 points with six rebounds.  Jordan Chambers had 10.
Seward had won four straight against Garden.  Seward loses their fifth straight and falls to 2-7.  Garden City is 5-4 in the KJCCC.  Seward hosts Northwest Tech Wednesday at 8 on 107.5 and kscbnews.net.