Horyna Wins the WAC
Brock Kappelmann - October 13, 2017 6:43 am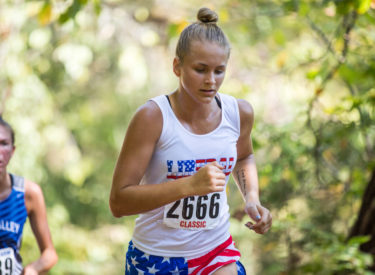 Liberal Cross Country Places Third at WAC
Buffalo Dunes Golf Course in Garden City was host to the Western Athletic Conference Cross
Country Championships. Both Liberal boys and girls came into the first week of their championship
season ready to step it up a notch and prove they can run with the best teams in the state.
The girls' team competed in a 4 kilometer race on the hot and humid day. Sophomore Katie
Horyna ran away from the competition completing the course in 16:38, 30 seconds faster than second
place. Sophomore Audrey Gilmore ran a 17:36 to earn a spot on the top 5 and make the first team All-
WAC team. Senior Ali Lucero was the third runner for the Redskins placing 13th with a time of 18:23.
Alondra Alvarado and Reece Hay were the 21st and 22nd runners to complete the course running a 19:01
and 19:04. The top five runners for the Redskins scored points for the team with a total of 62. The other
runners for Liberal were Kelsey Ramsey, Reyn Slatten, Tania Minjarez, Gisselle Melendez, and Jakeline
Flores. The Redskins finished in third place just nine points away from the Champions Garden City. After
the meet Katie Horyna was voted WAC Runner of the Year.
The boys' team race competed in a 5 kilometer race and were led by Junior Xavier Perez. Perez
finished in third place with a time of 17:43 earning All-WAC honors. Javier Carrillo made second team
All-WAC with his 8th place finish in 18:05. Joel Obando crossed the line in 18:15 to finish in 12th place.
Next in line was freshman Alex Lopez. Lopez finished in 19thplace with a time of 18:46. The 5th and last
scorer for the Redskins was Antonio Borunda in 21st place with a time of 18:54. Other runners for the
Redskins were Josh Diazdeleon, Cory Nguyen, Fausto Parrall, Alex Molina, Aaron Venegas. The Redskins
finished with 63 points to finish in 3rd place behind Great Bend and Garden City.
The Redskins cross country teams will travel to Lake Afton outside of Goddard, Kansas next
Saturday the 21st for the Regional Championships with a trip to the state meet on the line. The Redskins
will compete against Bishop Carroll, Goddard, Goddard Eisenhower, Maize, Maize South, Kapaun Mt.
Carmel, and Great Bend. The top three teams and five individuals not on a qualifying team will advance
to the state meet. Six of the eight teams on the girls' side have all been ranked in the top ten of the state
this season.