Horyna Wins Closest to the Pin Contest at Hutchinson
Brock Kappelmann - October 4, 2019 6:23 am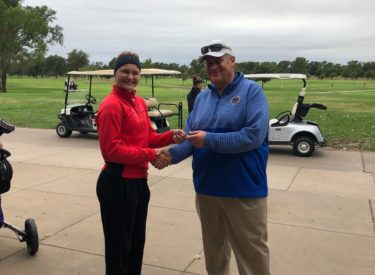 The Liberal Redskins Girls Golf Team competed in Hutchinson on Thursday
afternoon. Liberal was led by Katie Horyna who carded a season best 95.
Horyna also won the closest to the pin medal on the par 3 eighth hole.
Liberal only had three golfers compete and did not have a qualifying team
score. The Redskins will complete WAC play on Tuesday when they travel to
Great Bend.
Individual Scores
Katie Horyna- 95
McKenzie Miller- 109
Ashlyn Wagonseller- 116
—
Jessica Tercero
JV
The Liberal Redskins Junior Varsity Golf Team competed in Syracuse on Thursday afternoon. Mandy Zhang led the Redskins carding a 63 for a 5th place medal. There were no team scores recorded at the tournament. This tournament concludes the junior varsity season which saw a lot of young players who earned a lot of great experience! We look forward to seeing them improve over the off season leading into next season.
Individual Scores:
Mandy Zhang- 63- 5th
Nubia Rodriguez- 65
Emma Aichele- 67
Lesley Carrillo- 72
Diana Arana- 73
Ileyah Ross- 79