Horyna Named WAC Player of the Year Again
Brock Kappelmann - March 16, 2020 8:24 am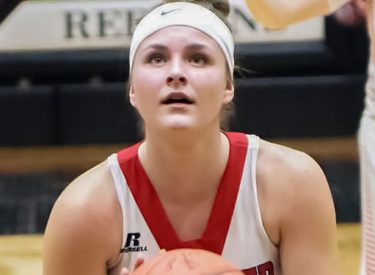 There will be many special memories for Katie Horyna now that her 4-year high school basketball career saw the curtain fall two games earlier than expected.
While Horyna, a 5-9 senior guard, and her Liberal Lady Redskins teammates finished their 2019-20 season with an unblemished 23-0 record, it was two games away from their original goal of winning a Class 6A state championship for the first time.
On Thursday, March 12, the Kansas State High School Activities Association pulled the plug on all state high school basketball tournament across Kansas, thus keeping Liberal and many other players and teams from fulfilling their final dreams.
But 72 hours later, Horyna was philosophical about the decision that short-circuited her and her teammates' primary goal for the season.
"At the end of the day, we play games, and we're talking about a virus that could possibly kill people," she said Sunday (March 15) in a telephone interview. "It was a tough night and left a sting with us, and hurts the most because we had played with a chip on our shoulder all year after what happened last year (loss in the first round of the state tournament after being unbeaten)."
Horyna, though, can take some consolation in knowing that she will go out as the 2019-20 Western Athletic Conference's Player of the Year.
"I think when coach (Carter Kruger) told me about the honor, it shows how good of teammates I have and how the coaches made me the player I am," Horyna said. "Each year, I had to step intodifferent roles and I think it's made me a better all-around player."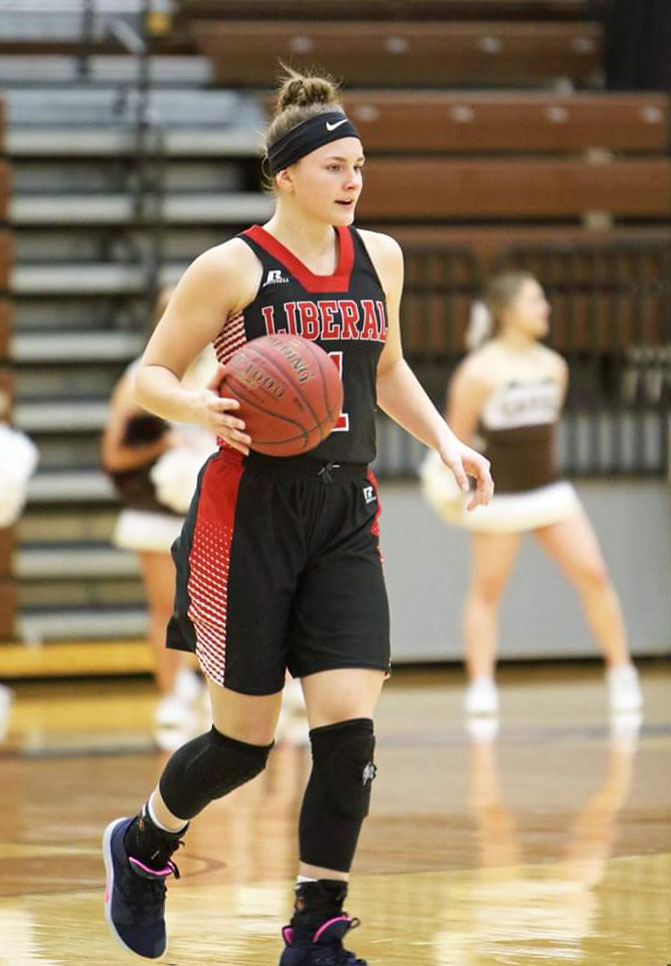 In what would become her next-to-last game in high school, Horyna went over the 1,000-point scoring level and finished with 1,012. She averaged  11.0 points for her 4 seasons, with her sophomore and junior seasons being her top scoring years (324 and 328 points; 272 her senior year).
"We didn't need her to do as much scoring this year, and there were many games where she left the game late in the third quarter or early fourth quarter when we had big leads," Kruger said of his standout point guard.
The all-around skills are exemplified by her statistics in other categories. She finished with 326 rebounds (3.5), 282 assists (3.1) and 179 steals (2.0). During the four-year run of Horyna and her senior sidekick Machia Mullens (also a first-team All-WAC player),the Lady Redskins rolled to an impressive 85-8 won-loss record (17-5, 23-2, 22-1 and 23-0).
They won the WAC team championship every year and played in three state tournaments, finishing third in 2018 in Class 5A.
Horyna, who will be going on to the collegiate level to play at Abilene Christian University next year, said the transition from freshman to senior has been quite a journey.
"That first year, my role was not to score, but to get us into our offense and not turn the ball over," Horyna recalled of her freshman season when she averaged just 4.0 points per game. "Eventually, knowing that I needed to score, drive to the rim more and improve my shooting became things I worked hard on."
While the dreams of Horyna and her teammates were not able to be realized, the years of playing together since third grade will always be priceless, she said.
"Knowing we had worked hard to become a good team is very satisfying," Horyna said. "We had to overcome a lot to become a good team. I know that I can always improve areas of my game, so whenI go off to college, I'll be a freshman again and I won't be that good again."
How will she want to be remembered from her days at Liberal?
"I think to be known as the hardest worker and the best teammate," Horyna said. "I feel like I worked hard to be able to do it all and score in different ways, and rebound, and play some defense. This was the closest team I've ever played on. We were always together, having fun. The coaches helped us so much to get better. There's just lots of memories."
Perhaps Horyna's accomplishments and the type of player and person she has worked hard to be, is best exemplified by her observations about other coaches in the WAC.
"They were so nice to me. They would always come up to me and tell me how much improvement I've made and encouraged me to be a good player," Horyna said of the four WAC opposing coaches. "You don't see that from many other schools."
In addition to Horyna and Mullens, the first team all-WAC selections includes a third Lady Redskin in 5-9 forward Aubrey Warden, and a pair of WAC runner-up players from Dodge City's 17-5 team –5-7 junior guard Kisa Unruh and 5-10 senior forward Chidera Okora. Kruger was named Coach of the Year.
The second team is comprised of Dodge City sophomore Camree Johnson, Garden City junior Keyhana Turner, Garden City freshman Amaya Gallegos, Hays sophomore Aleyia Ruder and Great Bend junior Sydney Ruder.
---
All-WAC Girls Basketball
First Team
| Player | School | Class |
| --- | --- | --- |
| Katie Horyna | Liberal | Sr |
| Machia Mullens | Liberal | Sr |
| Kisa Unruh | Dodge City | Jr |
| Aubrey Warden | Liberal | Jr |
| Chidera Okoro | Dodge City | Sr |
Player of the Year: Katie Horyna, Liberal
Coach of the Year: Carter Kruger, Liberal
Second Team
| Player | School | Class |
| --- | --- | --- |
| Camree Johnson | Dodge City | So |
| Keyhana Turner | Garden City | Jr |
| Aleyia Ruder | Hays | So |
| Sydney Unruh | Great Bend | Jr |
| Amaya Gallegos | Garden City | Fr |
---
Brett Marshall is the retired Sports Editor of The Garden City Telegram (2008 to 2018) and was formerly the sports editor at The Dodge City Daily Globe (1975-1977). He also worked on newspapers in Fort Scott, Hutchinson and Salina.